Battle of Slots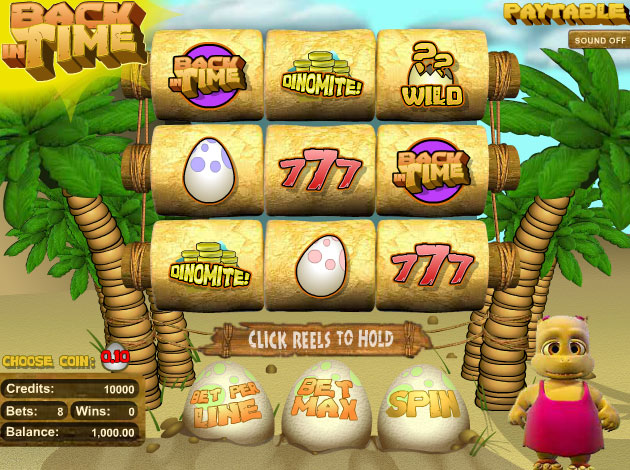 Back in Time
Back in Time is a great slot game from Betsoft which takes you back in time some millions years where dinosaurs and palm trees were a common sight with the only difference that in this game you don't have to worry about being eaten alive. Instead you win money here and lots of it.

This is a game with 3 reels and the paylines stretch horisontal, diagonal and vertical so you can get winning combinations in almost any way. And after the spin you get the chance to spin another time but before you make the next spin you can hold as many of the symbols as you want. So if you make a spin and decide to hold the symbol in the middle and click spin again all other symbols will re-spin except for that one you marked. And if you get a match with some rare and very valuable symbols you can keep them and hope you get even more in the next spin. This makes it easier to get even better combinations and more money on the second spin of each round you play.

Here you also have a wild symbol which can substitue all other symbols and makes is possible to get bigger and better paid combinations even easier. It is a small egg with question marks popping out of it and it can really help you win faster and more money. If you for example have two matching symbols and missing the third one, the wild will substitute for the symbol and create the complete combination.

In Back in Time you also have a really cool bonus game which is a game inside the actual game. All you need to get there is collect 3 stones and you will immediately be transferred to the bonus game. There you will find 3 reels with hidden symbols in it. Click on the ones you want to reveal and the little cute dinosaur Dinomo will throw a rock to open the reel and unveil what is inside. You have 3 rocks to open 3 spots with and they money you win from it will be added to your balance as soon as the bonus game is over.

You can choose to play with up to 5 coins per bet line and up to 6 different bet levels, so this is a perfect game for players with all kinds of bankrolls. If you click on the button paytable you will see all the symbols and how much each will pay you. Use the fullscreen mode to raise the game experience even more at the + you will find to right. I can really recommend to do that since this game has an incredible graphic and a cute theme.This games also contains sound and if you prefer to play without it or to have your own music can you easily adjust it on the sound symbol under the paytable icon.

Good luck in this fun and cute video slot, Back in Time.