Battle of Slots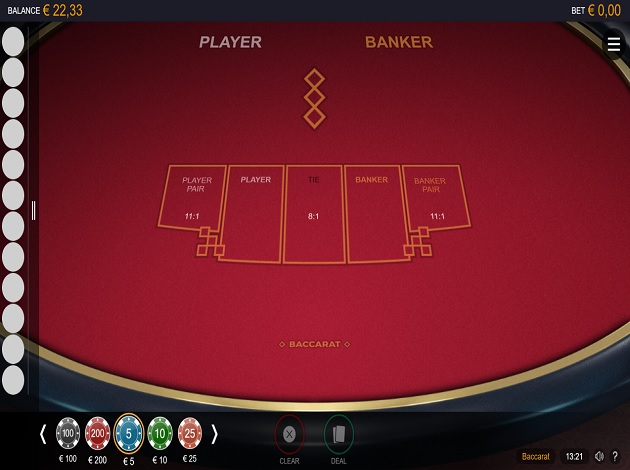 Play Baccarat online: Check out our review below
Baccarat Introduction
Baccarat is one of the older card games that has produced a number of variations over the years. More complicated than Blackjack but requiring less thinking and strategy than some poker games, Baccarat can be face-paced and highly entertaining.
It's also a classic test of luck between the player and bank. The great news for you is that you can switch your bets between the two as you see fit. This choice for your bet based on a shoe of 6-8 decks is the magic that has kept this game alive for centuries.
Baccarat Rules
While baccarat games have evolved into multiple variants, Switch Studios have also integrated several dependable standard cues in the game that are designed to give you that classy casino feel: the bean-shaped table, actual cards, and, as always, professional dealers.
Tabs on trends and side bets are also available, though these depend on which Baccarat variation you're playing. All the controls and data are laid out in a manageable and intuitive way on the screen, but also intelligently designed so as not to be too distracting.
Standard punto-banco (player-bank) rules apply. Cards 1-9 are worth their face value. All other cards, except for aces – which are worth 1 point - are 0. The score of the hand is the rightmost digit of the total of the cards. For example, if your total is 15, 5 is your score.
If either the player or the banker has a total between 0-5, they will be dealt a card. If either the player or the banker is 6-7, they will always stand. If either the player or the banker has a "natural hand," i.e., two card score of 8 or 9, then no further cards are drawn.
Baccarat Payouts
Payouts for wins are standard for Baccarat:
Player - 1 to 1
Banker - 1 to 0.95 (5% commission is charged)
Tie - 8 to 1
There are also the Pairs Side Bets, which give you two additional betting options. You can bet on either the player's or the banker's first two cards being a pair. In case of a win either way, the payout is 11 to 1.
In Perfect Pairs, potential payouts can be big earners. Perfect pair pays 25:1. A Perfect Pair pays 200:1 if two identical cards are dealt as the first two cards to the player and banker.
Baccarat Graphics and Sound
Whether you're playing on a huge desktop screen or on your mobile device, Baccarat will provide you with an optimal audio-visual experience. You can't get much closer to the casino feel in terms of the audio, with the live dealer and the buzz of the casino in your ears.
The video quality in Baccarat is as good as real, with multiple views and over 15 camera angles available in the game. Normal video is the high definition quality that you'd expect with a company like Switch Studios.
Baccarat Conclusion
The design team at Switch Studios did a great job with their game of Baccarat, as it is a a great example of realistic thrills made possible with virtual technologies.
The graphics are great, and the aesthetic has a timeless feel. With a classic visual set up and some attractive options such as Pairs Side Bet and plenty of other optional side bets, Baccarat has plenty of tricks up its sleeve that will surely get your pulse racing.
Gambling is a form of adult entertainment only. You must be over 18 to play. Play responsibly.