Battle of Slots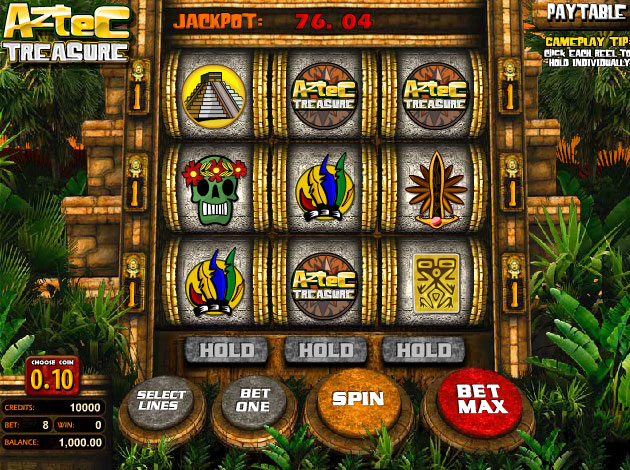 Aztec Treasure
Aztec treasure is a nine reel slot which complements its sister game Aztec treasures. The theme of this slot game is based in a jungle surrounded to a chief of a tribe who spends his time throwing around spears, collecting gem stones. Apart from the amazing graphics of this game which include symbols such as native man, skulls, native signs, pyramids, and the Aztec treasure symbol, you will also experience the ambience of a journey into the lovely jungle through the extremely fine percussive and engaging sound effects of the game. This game is made up on nine separate reels that together makes 3 –rows with 5 paylines to win from.

To start the game, simply click on the picture above. Once the game has loaded you can choose your coin size from the red button in the lower left corner. You can choose from 0,02 up to € 1. If you want maximum action just press the red Bet Max button. If you want a chance to win the Aztec Treasure Jackpot you must use the Max Bet in all coin sizes in order to qualify. So, are you ready to step in to the deep jungle in search of the hidden Aztec Treasure.

There is a bonus game which gets triggered by collecting all the three gemstones. Here you will see the reels going underground in order to unveil the hidden treasure chamber where you are to place the stones in order to unlock and reveal your prize from the secret chambers. You have three chances to find the Aztec Treasure! Once all three stones has been placed, you will be transferred back to the main game to start collecting new gems for your next hunt for the Aztec Treasure.The best thing with this bonus feature is that you simply cannot lose since there are no collect symbol.

Another feature that this games offer is that you can choose to hold any particular three reels that you like, in order to maximize your chance of receiving a winning combination. You can use it every other spin and best is to use it if you land on two of the same symbols in a row. If you hold those symbols you will have a chance to win with three in a row. When you press hold, you will hold the whole row of three reels starting from the top, down to the bottom.

The controls of this game are located at the bottom of the screen in drum like graphics, and produce quite a funny noise when you click on them. So, if you want a game that incorporates everything you can think of into one slot, then Aztec treasure is the right place for you! It is definitely one of those games that you just can't have enough playing it, with regularly supplying you with exciting features, and making your day at the same time! This game will make you happy and once in a while you will also meet the Aztec hunter with his spear.