Battle of Slots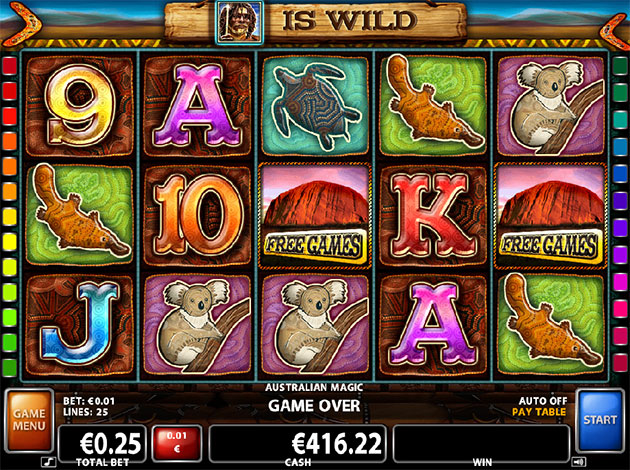 Australian Magic
Hello dear friends, I can see that you have managed to find Australian Magic in our vast library of casino games. This is a game from Casino Technology, one of the oldest game providers on the scene at the moment. They have been working in this industry for over 15 years, managing to establish themselves in over 50 game jurisdictions and with that they cement their position as one of the innovative leaders of their business.
Australian Magic is a 5 reel slot with 25 paylines, wild symbols and a quite interesting free spins bonus that can be restarted during the bonus, giving you the possibility to score some fantastically big wins here. The music and sound effects of the game are very nice and closely related to the Australian Aboriginal theme, with didgeridoo sounds echoing in the background. The reels are covered with classical Australian images like koala bears and Ayers Rock, all that is missing is a few Fosters and Michael "Crocodile" Dundee. Personally I have always been fascinated by the land down under so this game was a real treat to try.
This slot is themed around the Australian aboriginals, the indigenous people of Australia. They believed that before the earth was born there were a "Dreamtime" where what they call Ancestors rose up from under the earth and created various parts of nature like rocks, rivers, lakes and different animals. The Aboriginals lived off the land in Australia, and it is claimed that due to the abundance of food and resources they did not travel far from their lands except for trading with other Aboriginal groups. During this time it is claimed that they needed only about four or five hours of work, and could spend their time developing a rich and complex lifestyle with their own customs, language, spirituality and laws. This was before Australia was "discovered" and their lives changed greatly when Europe ventured to find the fabled Terra Australis. This land had never been observed or ventured to previously but the people of that time predicted that there would be a landmass there based on the hypothesis that continents in the Northern Hemisphere should be balanced by land in the south.
In 1770 Lt. James Cook arrived in Australia and dramatically changed their way of life as he declared the land to belong to Britain's King George III. They called this land New South Wales, and they completely ignored that the country was already inhabited. By 1788 Captain Arthur Phillips arrived with the set goal of establishing a penal colony, take control over Australia and within four days the first land claim was made.
The culture of the Aboriginal Australians were carried down from generation to generation with songs, dances, rituals, and legends making it hard to know much about the ancient people inhabiting this spider filled continent.
Videoslots.com warmly welcomes you to try this amazing game with us, enjoy a taste of Australia without having to worry about getting attacked by any drop bears.