Battle of Slots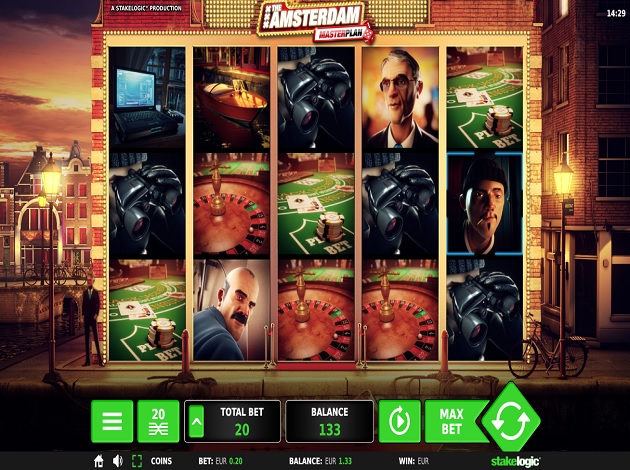 Play The Amsterdam Masterplan online: Check out our slot review below
If you are looking for a game machine where a bit of action is announced, the Amsterdam Masterplan is certainly the right choice. The graphics are similar to the cinema. A robbery with several participants is the story of this slot. The player will gradually get to know them and understand the role they play and the benefits they bring. The beauty of this slot is that it is almost impossible not to win, as there are many features that can help you make great payouts. If you're curious about, stay tuned to find out more. But first, we should also take a look at the game mechanics.
Behind the The Amsterdam Masterplan slot is a young game developer named Stake logic. This game developer from the Netherlands has been set up in 2014, and has already managed to capture players' interest in their stunning 3D graphics, among other things.
Behind Stake logic there are top-selling professionals who create unique games. This game developer's gaming product shows both creativity and skill, as the top-of-the-line features of the game also display well-executed game maths. Entertaining and full-featured games with first-rate gameplay let us assume that we will continue to hear a great deal about this game developer who is actually just at the beginning of his .
Stakelogic believes that mobile gaming is the new thing and they are focusing on that already. They have a mobile gaming line called MOBi, and these games are released at the same time as the desktop games, so mobile players won't experience any delays.
The Amsterdam Masterplan main game
Like many other slot machines, this slot is not difficult to play. The buttons are all very logical so that a player immediately knows where to adjust his settings. Since the lines and their numbers are predetermined, it is only a question of picking the right amount to bet per line.
As you rotate the reels, you will find plenty of equipment, including computers, binoculars, and state-of-the-art technical equipment without which the plan cannot succeed. The casino card acts as an Expanding Wild, and although this symbol can only occupy the third roller, it automatically overwhelms it completely. On the 5th roller there is another special symbol by which the wheel of fortune is started, a special feature which we're going to describe you shortly after.
The Amsterdam Masterplan theme, graphics, and music
The game is about bank robbers who work out a perfect plan - the Amsterdam Master Plan. The goal is to rob a big casino without making even the slightest mistake. Maybe the story is known to you, because with a lot of famous blockbusters (such as Ocean's Eleven), a quite similar scenario already took place. This slot game, however, is even more exciting, because you can play as part of a team and even get a part of the spoils - of course, in the form of winnings.
The main characters Simon, Harry and Chung will be introduced to you before the first round begins. After completing the intros, the actual game will start, which will definitely surpass your expectations. The graphics have been designed in high-definition, as such, a real-life atmosphere is immediately apparent, and the sounds in the background are also reminiscent of blockbusters which can only be experienced in the best cinemas.
The Amsterdam Masterplan payout
This fantastic slot provided by Stake logic, The Amsterdam Master Plan, has five reels and three rows, and a total of 20 paylines on which you will definitely complete winning combinations.
The 20 winning lines snake from left to right to win, the player needs several identical symbols directly behind each other. They have to wiggle along a line to make a profit.
The Amsterdam Masterplan features
Thanks to Stake logic you will find a colorful bunch of winning features at The Amsterdam Masterplan. The exotic thing about this slot are the special functions, because there are far more present than the usual Wild and Scatter. The Wheel of Fortune is an extremely exciting and, above all, profitable round. When you reach it, usually it means that you're about to win a lot of money.
Wilds, Free Spins & Bonus Game
To begin with, The Amsterdam Masterplan features Expanding Wilds which cover an entire reel once they appear. This fantastic feature enables you to complete winning paylines more often because this icon lands quite frequently, which should deliver steady wins.
The Amsterdam Masterplan offers also Free Spins which you can trigger by landing Scatters. Once three of them appear, you receive 5 Free Spins, four Scatters trigger 10 Free Spins and landing five Scatters awards 15 Free Spins.
The Video Slot offers also a bonus symbol, and if it appears on the centre position of the fifth reel, you trigger the Wheel of Fortune Multiplier Game. Once activated, you can receive a multiplier of your total coin bet ranging from x5 to x250.
With a payout ratio of 96,63%, this Slot machine can undoubtedly shine.
If you would like to enter another world, the Amsterdam Masterplan is definitely well served. Times plan the big coup and know that nothing can happen to you. Along with other heroes, you know exactly what to do, and how to achieve your goal. A great idea, right? If you want, you can convert this idea into reality with the help of The Amsterdam Masterplan while letting your imagination run wild.
The Amsterdam Masterplan is full of special features, and you can now explore this game at Videoslots.com Casino, for free or real money.
Are you ready to rob the casino? Then be sure to use some of this online slot's fantastic special features, which should make you rich in no time!